The History > The Beginnings of John Hunt Morgan
In the fall of 1861, the arrival of Federal
troops into Lexington, Kentucky prompted
Lexington native John Hunt Morgan to
assemble a band of 17 armed men on
horseback to support the Confederate
cause. The "Lexington Rifles" as he called
his band, rode into south central Kentucky
to join Brigadier General Simon Bolivar
Buckner's command in Bowling Green,
picking up an additional 200 recruits along
the way.

Morgan and his raw cavalry went into
training camp at Woodsonville, learning
drill and tactics across the river from
Munfordville. Morgan made his headquarters in the old Green River Baptist Church, and it was on the steps of that church that he and his men were sworn into the Confederate army in October by Major William P. Johnston, son of General Albert Sidney Johnston.

Immediately after the swearing-in, officers were elected: Morgan was named captain, Basil Duke first lieutenant, James West second lieutenant, and Van Buren Sellers third lieutenant. The "Lexington Rifles" became the core of the 2nd Kentucky Cavalry.

On November 4, 1861, Morgan's command was summoned to active duty in Bowling Green, but the group had little more than arrived when news of Union movement southward into the area drove Morgan to plan the first significant attack of his military career. In December, Morgan and a picked crew of 100 men rode north to Bacon Creek (Bonnieville) and burned the L&N Railroad trestle. This act brought him to the attention of the press, and his name began to take on the status of legend as he terrorized the bluegrass.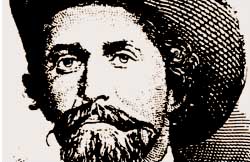 Confederate raider John Hunt Morgan